For Curry Recipes, Curry Tips, Restaurant Reviews and more. Add Curry Club to your favourites - for those Curry emergencies!
Click The Tabs at Top of This Page for Recipes & More.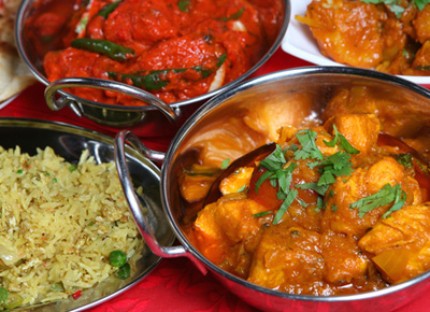 TOP 5 CURRY SEARCHES

(Click to See How to Make)

1. Chicken Tikka Massala
2. Chicken Balti
3. Chicken Korma
4. Lamb Madras
5. Chicken Dhansak


CURRY?
Curries come from various Asian countries including India, Sri Lanka (Ceylon), Myanmar (Burma), Thailand, Malaysia and Indonesia.


BALTI
Balti cooking originated in the mountains of North Pakistan and not in Baltistan as many people think. Balti in Europe began in the Sparkhill and Sparkbrook areas of the city of Birmingham, England in the early 1990's. Word soon spread and Balti Houses began popping up in towns all over the country.

DHANSAK
Dhansak is a spicy hot but almost sweet and sour curry, comprising of either meat or prawns combined with a lentil dahl. Dhansak is originally a Persian dish although the dhansak you are most likely to be served with at your local curry restaurant would use a tarka dahl of split red lentils combined with tomatoes and occasionally fruit such as pineapple with the main meat or fish ingredient.


JALFREZI
Jalfrezi, originally a Raj dish, is now found on many restaurant menus. Usually cooked with chicken, meat or vegetables, with added green peppers, green chilies and onions. Jalfrezi has a delicious fresh zesty and spicy flavour.
FOR ANY OF THE ABOVE - GO TO OUR RECIPE SECTION HERE!


HOW TO COOK:
CHICKEN TIKKA MASALA - Video Here
CHICKEN PASANDA

3 Chicken Breasts cubed
1 Tin Evaporated milk
4oz ground almonds
2 tablespoons flaked almonds
4oz Thick Greek Yogurt
4oz double cream
2 Tablespoons tomato puree
3 Tablespoons Mango chutney
Quarter of an onion finely chopped.
2 Teaspoons Curry Powder
Half Teaspoon Chilli Powder
3 Finely Chopped Cayenne Chillies
4 Cloves Crushed Garlic
2 inches Root Ginger grated
5 Tablespoons Vegetable Oil
4 Tablespoons roughly chopped coriander leaves
1 Tablespoon whole coriander leaves
1 Teaspoon Turmeric
1 teaspoon Garam Massalla



Method:
Make a paste of the curry powder, Turmeric and chilli powder with a little water.

Fry the onion until translucent in the veg oil then add the garlic, ginger and chillies and stir fry on medium for a further 5 minutes.
Add the curry and chilli powder paste and stir in and fry for a further 30 secs.

Add the chicken pieces and seal well on all sides.
Stir in the cream, tomato puree, ground almonds, mango chutney and milk and simmer for 20 minutes or until the chicken is cooked, stirring constantly. If needed add a little water to prevent the curry becoming too thick or dry.

Now stir in the garam massalla and finely chopped coriander leaves and cook for a further minute.

Serve with the whole or chopped coriander leaves sprinkled over the top.
DID YOU KNOW:
CURRY IS A 'STRESS RELIEVER' and eating hot Curries often, is a brilliant way of losing weight. Regular Curry can increase the metabolism by 50% and the spices in most curries lower blood sugar levels, which in turn reduces hunger and raises energy levels.
MASALLA CURRY SAUCE
1/2 cup Vegetable Oil
5 tbsp Garlic Puree
4 tbsp Ginger Puree
1 pint Onion Puree (=10 portions)
1 1/2 lb Canned Tomatoes and Juices
6 tbsp Tomato Paste
3 tsp Salt
2 tbsp Brown Sugar


SPICES:
5 tbsp Masala Mild Curry Powder
2 tbsp Paprika
2 tbsp Turmeric


JUST ADD FRESH CHILLIES FOR HEAT
GRADES
AND PAN SEALED MEATS OF YOUR
CHOICE
GENTLY BOIL AND REDUCE SAUCE FOR
20-25 MINUTES.



VINTAGE CURRY!
Britain's first curry house opened in 1810. It was called the Hindustani Coffee House and was located in London's Portman Square.
FOR A TASTIER CURRY
Cook your curry, let it cool, put it in the
fridge overnight and reheat the next day -
Wow!

CURRY TOO CHILIE HOT!
Don't panic, just add yoghurt and stir until your happy with the heat - phew!
MARINADE
If you are using a Curry Sauce from a jar,
put the sauce in a bowl, add the raw
meat and place in the fridge overnight
to marinade.
HOW TO MAKE MUSHROOM MATAR